It's been quite a while since I've posted on this forum. First of all I'm against hate crime to any race of people however hate crimes has been the norm and has been desensitized for Black people ever since we arrived here in America 400+ years ago. Besides it's not like Asians love black people but they damn sure love taking our money (even more than the rotten slavemaster). They come to America and have established their own towns and owned 191,000 acres of land worth $1.9 billion as of 2019. They discriminate against Black people BIG TIME in China which is really being exposed now. Asians come over here and get all kinds of benefits that Blacks are denied. 
So now the Asians are getting a little taste of what we've been experiencing all along. I've read how bad they treat Black people over in China and it's a damn shame. They even own or have rights of land in Africa for its resources and I can imagine who's doing the cheap labor for them over there. Again I say, I'm not in support of discrimination against any race of people, and I damn sure am not in support of highlighting another race that's feeling a little heat when our a**es has been in the FULL BLOWN BLAZE for over 400 years either. It's not like they jump over hurdles to march for justice for people like George Floyd, Breonna Taylor, Trayvon Martin, Sandra Bland and others who suffered injustice at the hands of trigger happy cops and fight for our rights. So why should I break down the door or be overly sensitive to theirs?
So I'm not jumping through no hula hoops to march or defend any discrimination against them as they did not and are not breaking the doors down to march or fight for our rights. As long as they keep getting rich off our dollars they don't give a damn about us! It's all about the billions of dollars we give them to support their endeavors...Period!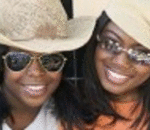 Posted By: Siebra Muhammad
Monday, March 22nd 2021 at 5:30PM
You can also
click here to view all posts by this author...