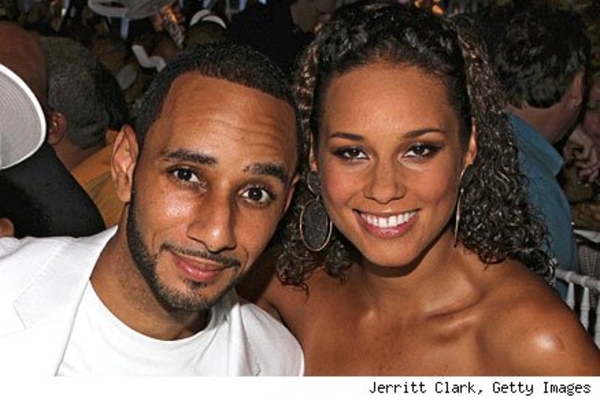 Kasseem "Swizz Beatz" Dean has 99 problems and his chick ain't one. The newlywed music producer , 31, has been honeymooning it up on yachts in Corsica, France with his new wife singer Alicia Keys, 29, like he doesn't have a care in the world. Technically he shouldn't, after all, he did just wed one of the most intelligent and graceful women in R&B, but according to recent news, Swizz has found himself in a boatload of trouble.
Shortly after everyone viewed the secret wedding photos of Swizz and Alicia marrying in Italy, we could barely get out our oohs and ahhhs before tax documents surfaced showing Dean owes $2.4 million in taxes. Accumulating since 2006-2008, the total is part of a larger seven-year debt due to 35 different tax liens from the IRS.
Keys certainly has money of her own -- as does Beatz, who, according to Forbes, made $8 million in 2008 alone -- but what is going on here? Should Alicia have dug a little deeper before walking down the aisle? Maybe money grows on trees in the Dean household, but with more than 30 tax liens, child support and tax debt in the millions, Keys might have benefited from taking a moment to think before walking down the aisle.
"Celebrity or not, when you are preparing to marry someone you should disclose any type of financial obligations that will impact the marriage," Dr. Taffy Wagner, owner of Money Talk Matters and author of 'Debt Dilemma,' told Black Voices. "Just because the person wasn't involved the financial decision at the time, doesn't mean they won't be affected by the financial consequences."
As Swizz is pictured on his honeymoon poppin' and literally showering his friends with bottles of champagne sans his new wife, what does this mean for the expectant mother Alicia?
"Because these are tax liens, Alicia has to be concerned what will happen to her husband. Look what happened to Wesley Snipes," Wagner warned. "The IRS doesn't discriminate based on celebrity. If you owe them money, you owe them money."
Stress will continue to ensue if the reports of the couple searching $14 million dollar homes are true.
http://www.bvonlove.com/2010/08/11/swizz-b...
Posted By: Jen Fad
Saturday, January 8th 2011 at 6:45PM
You can also
click here to view all posts by this author...