Like Malik in the video says we have to educate ourselves economically. There are lots of things about our economy that I do not understand and would like some more information about. Why are the Fortune 500 companies sitting on hundreds of billions perhaps trillions of dollars in cash reserves instead of investing that money back into their companies? The Federal Reserve has offered money to the banks at practically zero percent interest since this crises has begun (this is money other than the famous bailouts). The banks have taken advantage of this to the tune of trillions of dollars (one figure I have read is 14 trillion). What have the banks done with all this cash? Why can not these banks create financial instruments that reinvest some this money in municipalities and states with similarly low rates so that local governments can take care of decaying infrastructure or deserving new projects that can benefit those communities and be affordable? The banks could also support small businesses and start-ups with low interest small loans.
I want to understand how the richest of our citizens are manipulating our political parties and electoral process.
In my state and many others politicians are making it more difficult to vote. They say it is to prevent voter fraud. Oddly enough they can not offer any proof voter fraud has taken place but their actions are disenfranchising millions of American citizens. This is because elections are often very close these days and the party in power realizes these disenfranchised voters are more likely to vote for the other guy. This is a coordinated effort across the states.
We need to return democracy to the people.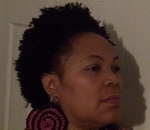 Posted By: anita moore
Thursday, October 13th 2011 at 10:38AM
You can also
click here to view all posts by this author...