Taraji P. Henson breathes rarefied air in Hollywood. She's one of few actress who has enjoyed both mainstream success and acclaim while maintaining a devoted fan base that spans wealth, generations and geography, but is also decidedly black. She's the "around the way girl" — as her memoir released last year is titled — who made it big, nabbing an Oscar nomination for 2008's "The Curious Case of Benjamin Button," a Golden Globe for her role as Cookie Lyon on "Empire" and three Emmy nominations.
But she's never forgotten from where she's come. Like her film debut working with John Singleton on 2001's "Baby Boy" as the scorned girlfriend of Tyrese's titular character.
Perhaps that's why many critics often find themselves perplexed by the 47-year-old's choices in roles. How on Earth, they say, can such a talent go from mesmerizing in the Oscar-nominated (and box office smash) "Hidden Figures" last year to the far-from-perfect action thriller "Proud Mary," which came out in January, to this weekend's "Acrimony" from critical pariah — yet prolific multi-hyphenate — Tyler Perry?
"I'm in love with the craft of acting," Henson said. "It's like Prince and Michael Jackson with music. Could you see them never playing music? I see them now, and they're not here, because they put so much of themselves in their music. That how I am about my art.
"I'll never get to a certain level where I don't do this anymore or that anymore. If it's a good script, I'm doing it. … I don't care if it's a million-dollar movie or a five-dollar movie. If I'm connected, I've got to do it."
In "Acrimony" Henson plays Melinda, a devoutly faithful girlfriend-turned-wife who tires of standing by her devious boyfriend-turned-husband (Lyriq Bent). At one point she becomes enraged when it appears her college sweetheart has, once again, betrayed her trust. The film also stars Crystle Stewart, Ptosha Storey, Jazmyn Simon, Kendrick Cross and Nelson Estevez among others. Perry wrote and directed.
This film marks the third time Henson and Perry and have worked together, following 2008's "The Family That Preys" and 2009's "I Can Do Bad All by Myself." When asked why she keeps returning to Perry's writing and directing tutelage, she says simply, "I trust him.
"He gives me good jobs and good roles," she added. "The first time I worked with him, I got to work with Kathy Bates and Alfre Woodard and Sanaa Lathan who I all look up to as an actress. Why would I turn that down as an artist? The next time we worked together, he called me the day after the Oscars when I was nominated and gave me my first leading role in a movie.
"He would always say, 'I'm going to work with you again but it has to be right.' So, I knew when he was calling that he had something great. And he did."
The Times caught up with Henson to talk about her latest role, how critics have responded to her work over the years and what she's begun to learn as she continues producing her own projects.
Why did you say yes to this role?
Because it reminded me so much of Glenn Close's character in "Fatal Attraction." That's the carrot Tyler dangled in front of me … then I read the script and I was, like, "I'm in." What I didn't know was that he was trying to shoot it in 10 days. Because who does that?
He originally wanted me to play the [character in college and as an older woman], but "Empire" wasn't going to let me off all of those days so he broke it up. And [Ajiona Alexus], who plays me as the teenaged Cookie, plays the younger me in "Acrimony." She naturally has light eyes and wears dark contact lenses for "Empire." This time I wore light colored contacts to match her eyes. So my portion of the film [was completed] in five days.
That's crazy, is it not?
Yes! And it's not like it was an easy character to portray. This woman is complex as hell and I literally had no time to research or do anything. I just had to really trust the process, my training and what was on the page.
How does that work for you, then, to still be in the mind-set of the complicated character that is Cookie and then jump over to play this similarly complex character that manifests herself very differently?
That's the excuse I tried to give Tyler [not to do it], and he didn't go for it. He said, "You've been living with Cookie for three years. Shut up and come down here and do this movie." He told me to stop being dramatic. [laughs]
And the way I choose my projects … I only do projects that scare the life out of me. That way, I know I have to face my fears and it's something that's going to grow me and change me and transform me. I like roles that challenge me and this did in more ways than one. What I'm proving to myself time and time again is that I do my best work under pressure. Even with "Proud Mary," I didn't have time to work on any stunt or fight scenes. I was learning that choreography the day of.
So you find comfort in being uncomfortable?
I love a challenge because otherwise what am I doing? If it's not challenging me, I'm not challenging my audience. And that audience, they get tired real quick. You can't keep playing the same roles because it's expensive to go to the movies. It's time-consuming, and people have got problems to tend to and families. I want to make it an enjoyable moment. I work so hard and try to put so many different characters in the can because I want people to trust me. Like Meryl Streep: You're going to see anything she does, right? There are certain actresses where you know that if you pay your money, you're going to be entertained. That's what I work so hard for.
How do you think that approach has served you career-wise?
I think it's kept me relevant. And it's kept me working, that's for sure.
But we know of actors who, once they nab that Oscar nomination, no longer appear in a certain type of movie they might have built their career doing.
I'm going to show you the blueprint to stay relevant and have longevity: I don't want to target one audience. My work is all over the place. My first television show was on Lifetime as a series regular. The next time I do something with Lifetime, it's a TV movie, ["Taken From Me: The Tiffany Rubin Story"], I get an Emmy nomination. Not to toot my own horn, but that's a beautiful cycle of life if I've ever seen one. But what if I said, "I don't want to do Lifetime. I've been there and done that?" I wouldn't have gotten my first Emmy nomination.
See, I don't judge it. I'm not trying to gain anything from it. I don't pick roles for the Oscar or the Emmy. That's the last thing I'm thinking about; people project that on me. Now don't get me wrong. I'm not putting it down or taking its importance away. But I do it for the people. I'm trying to touch as many humans as possible before I leave this planet. This is a gift God gave me. The least I can do is share it.
On my side of the table, folks have said, "She was so great in 'Hidden Figures' but then she went to 'Proud Mary' and 'Acrimony.' What's going on?"
But you see, everywhere I go there's an audience, right? [laughs] So if I do a movie like a "Hidden Figures," everyone will come. I've got fans that have been riding with me since "Baby Boy" … . I'll never turn my back on them. I'll never be too good for a role.
Are you interested in what critics are saying?
No. Critics are what they are, critics. That's their job, to find something wrong, to critique. Even if it's a beautiful film, they will try to find something wrong. But that's their job. I can't be mad at them. They're speaking their truth. But what I love about critics is they never trash me. They can hate a film, but they love my work or I saved it or I'm the reason the film even did what it did. So as long as I'm doing my job, you can't take anything away from me. I know what I left on film and the people connect every time. Because I care.
And I don't expect everyone to like everything. I don't expect everyone to like me. That's madness to try to please everyone. I'm human and I know everyone's not going to like me and I'm OK with that.
You've decided to challenge yourself by moving into the producer's chair. How are you choosing the projects you want to help come to life?
I have to be passionate about its message and how it's going to impact the people watching it. Like the Emmett Till story — it resonated with me when Trayvon Martin was murdered. You see the news and these kids become villains all because of a hoodie or their pants were sagging. I have a son and all that is is trying to express yourself, but the media can take that and make these children, the innocent babies just trying to find their way in life, villains.
It all reminded me of Emmett Till. They didn't see this little boy as a child … . I think the missing beat is we have to humanize him. We have to show that young kid in Chicago with that bubbly personality because all we now see of him is his eyeball in that casket from that horrific picture. That's all we know of Emmett Till because we never met him. We never met Trayvon and the endless names [of victims]. That's next after I finish "What Men Want" this summer and after I go back to "Empire."
Are there things you've learned wearing a producer's hat that you weren't necessarily aware of when you were just talent?
I realize I have to be very particular about how things are promoted. I have to fight to make those decisions as well or at least have some input.
What do you mean by that?
Just the way things are marketed. You can have a great movie, but when you see the promo you are confused. Then you see the movie and you're, like, "That's not what was in the promo." It's happened a few times in my career. Now that I'm producing I get that that's one thing I have to be a stickler on. Because I too am a member of the audience and I know what gets me into the theater.
That's something people should give Tyler Perry credit for, right? No matter what you think of his movies, people always show up and he seems to have perfected the marketing strategy for them.
Because he's still a people person. He's not in a cocoon and not reachable. He's generous and knows what the people want because he hangs out with the people. His crew, most of them are recent college graduates who would never get a shot in Hollywood. But they go to the movies.
I think a lot of times, certain movies are greenlit because no one understands what the people actually want. They're just trying to outdo what the last studio did. "That worked for them, so let's make five of those." [laughs] Because it's all about dollars and cents.
Is there anything you think young black folks need to keep in mind as they move through the industry?
Well the industry ain't gon' let you forget you black. So don't be offended. Just know that's the struggle and the fight we're fighting. Get on the wagon with the rest of us and fight it.
When I go out to colleges and speak to the youth, I ask them to raise their hands if they want to be an actor. All the hands go up. Then I ask for those who want to be a director. A few hands. Writers? A couple. Then I ask for studio execs. Nobody. See, we're thinking too small, and until we start thinking differently we're gonna always be fighting.
Look at Tyler. He ain't got to fight nobody. He thought big, because why not? Why not own your own studio? Why not? Tyler has done it and is the blueprint, and he'll show you how.
"Empire" resumed airing this week. How does it feel to still have Cookie to play around with?
It definitely challenges the writers because how do you top what you've already written for Cookie? This season I've loved going back in time to when she was in jail and we got to meet her mother, played by Alfre Woodard. It's been really great, but I like a challenge, so that's how I'm always looking at the writers. "Y'all better challenge me!" [laughs]
I just really love playing characters, and that's why I lean toward feature films. That's why I'm really the only one [on "Empire"] doing so much, except for Jussie [Smollett], who just came out with his album and will be touring now. But when they yell cut, Terrence [Howard] is, like, "I'm going to lay down," while I'm hopping on a plane. I really like playing characters and can't get enough because there are so many characters to play.
Read more:
http://www.latimes.com/entertainment/movie...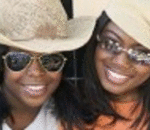 Posted By: Siebra Muhammad
Sunday, April 1st 2018 at 6:09PM
You can also
click here to view all posts by this author...